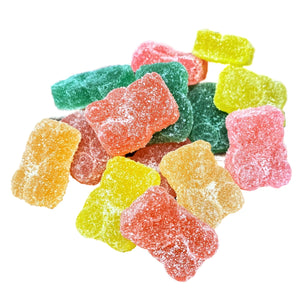 Prepare for a therapeutic flavor explosion! NAM Wellness award winning CBD gummies are made in a food certified kitchen using the highest quality inputs for maximum health benefits.
NAM Wellness full-spectrum CBD gummies are individually infused with 25mg CBD (never dipped, coated, or sprayed) so you know exactly the amount you take with each gummy.  Our full-spectrum CBD oil contains a complete array of other minor phytocannabinoids, including <0.3% trace amounts of THC, to work synergistically within your body and enhance effectiveness. 
Our gummies are packed with full spectrum hemp oil that's rich in phytocannabinoids to ensure a therapeutic experience like no other. They serve as a fast and effective way to get your daily dose of CBD, CBG, CBN, and other cannabinoids. Enjoy 5 flavors that deliciously deliver wellness without the commonly found cannabis aftertaste often found in edibles. 
 Dosage
We recommend starting with 1 gummie in the AM and 1 gummie in the PM for 5 consecutive days and see how you feel. Continue to increase by 1 gummie per dose for the next 5 days until you find the desired effect. Most people report feeling the full "effects" with doses between 25mg and 50mg (1-2 gummies/dose).
Daily Strength
1 gummie, AM + PM

Daily Plus Strength
2 gummie, AM + PM

Extra Strength
3 gummie, AM + PM
Ingredients
Full-spectrum CBD distillate, sugar, corn syrup, gelatin, pectin, citric acid, natural and artificial flavors, natural and artificial colors, potassium sorbate
It helps or is it really me
Its probably better than Ama___. They sell an everlasting variety of gummies in the universe. So even though it's hard to tell. I don't Think it's all my imagination. Thanks.
Short amt
On my order previous to the 100 ct order, I believe I order 50. They can in two 25 ct bags. I gave one to my wife and the one I kept only had a ct of 9. I only discovered this recently as I was still working on a previous order. I'm currently traveling, but when I get home, I'm going to open the 100 ct bag to see if it was accurate.
In the past, I didn't think that I had to double check your count. I'm very disappointed.