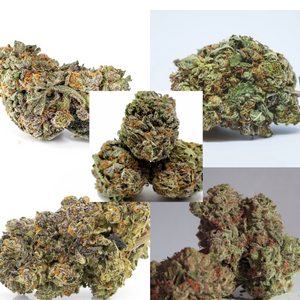 Our Delta 8 Flower Sample pack is the perfect way to try all of our Top-Shelf D8 Flower strains to find your favorite or get two grams for a great value! This is a good product to start your journey with Delta 8. Find your favorite strain and load up!
6 Beloved Strains
Each pack contains well over 1 gram of our Lemon Fire, Banana Runtz, Pineapple Express, Sour Diesel, Wedding Cake and Mango Gelato. That's 6 strains total to explore, to see what each one can do for your daily routine. Not only does each strain provide its own exciting effects that can enhance the way that you feel, but each one offers a mouthwatering flavor profile thanks to the variety of terpenes in each cultivar.
Fresh, Organic and Locally Sourced
We're proud to offer only the finest top-shelf hemp flower that you can find anywhere. We work with local hemp farmers who go above and beyond to cultivate pure, clean and highly effective crops. Our flower is grown organically, making it free of pesticides. And, it's always sold fresh.
Infused with Delta 8 Distillate
This flower is infused with delta 8 THC distillate, so that each serving gives you a psychoactive high that can make you feel blissed out beyond belief.
This product is supported under the 2018 farm bill section 7606 and compliant with all current US laws
Consistently Great Products
I've been buying from NAM Wellness now for a couple years and have never been let down.
Delta 8 THC Flower Sample
Great pack to get if you want to try different strains. I got this to show a friend how good your products are. He wasn't disappointed.
Its all good
I like the sampler. I have gone through one of the samples, and it was good. I will be back to buy more, thank you!