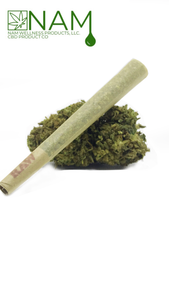 Our Delta 8 Pre-Rolls are hand-rolled from fresh, potent and organic delta 8 flower. Each pre-roll contains over a gram of delta 8 flower to really give you your money's worth. Every pre-roll that leaves our warehouse is made from freshly ground buds that are trimmed to perfection, never consisting of shake or trim. Experience for yourself the difference with NAM!
Choose Your Strain
Our Delta 8 Pre Rolls come in your choice of popular strains: Wedding Cake, Pineapple Express, Headband OG, Raspberry OG and Watermelon Skittles. Each strain consists of its own natural terpene profile that influences its flavor, aroma and effects, so that you can really customize your delta 8 experience like never before.
Minimal Effort, Big Results
Pre-rolls do all of the hard work for you, by grinding up and rolling top-shelf flower into natural papers. Just take a pre-roll out of the package, light it up and enjoy! This product is completely free of additives, letting nothing get in between you and your favorite hemp compounds. Infused with delta 8 distillate, each session delivers a deeply soothing psychoactive buzz, all while delivering nothing but organically grown, perfectly fresh cannabinoids and terpenes to your system.
**THIS PRODUCT ALONG WITH EVERY OTHER PRODUCT SOLD ON THIS WEBSITE IS LEGAL UNDER THE 2018 FARM BILL. THIS PRODUCT MAY CAUSE A POSITIVE TEST FOR DRUG TESTING**
NOT RCIVED I AM VERY UNHAPPY.
I HAVE YET TO RECEIVE IY. I THINK I'LL STOP PAYMENT ON MY CARD.
Train Wreck
That's a product that helps me relax and gets rid of the pain at the same time. Thank you. I enjoy the Delta 8 gummy bears and looking forward to trying the delta 9 gummies.
By far the Best 👌
I was skeptical at 1st because I didn't receive my order but was notified of an insufficient address causing order to be returned to NAM. I contacted customer service and was helped by Nick McLaughlin . I made sure to verify my address with Nick and received my order within 48hrs. I am very happy with the quality and its effectiveness. I love this stuff. I will be purchasing much more and I hope the address issue is resolved at next purchase. I Highly recommend NAM and it's customer service. Keep doing what you're doing guys. Grateful in Texas
Never received my order, so I cannot review