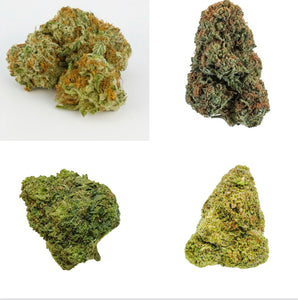 Want to give THCO a try, but don't know where to start? We're here to help. Our THCO Flower Sample Pack gives you the ability to try out a number of premium strains all at once, making you feel like the world of this cannabinoid is at your fingertips. Our THCO Flower Sample pack is the perfect way to try out all four of our amazing THCOO Flower strains. Each sample pack contains over a gram of:
Forbidden Fruit THC-O Flower
Mimosa THC-O Flower
Strawberry Gelato THC-O Flower
Diamond Haze THC-O Flower
Each strain is one-of-a-kind, with its own unique terpene profile that lends itself to a distinctive mouthwatering flavor and aroma, as well as unique effects that can each satisfy your needs in a different way.
Top-Shelf Quality
Our flower consists of raw, organically grown and locally sourced hemp flower buds that have been carefully infused with our pure, federally compliant and lab-tested THCO distillate. This means that each puff can deliver a powerful intoxicating effect that's 3 times as potent as that of delta 9 THC. Be wary that the high is very powerful, and so you may want to clear your schedule.
**This product, along with every product on this website is federally compliant with the 2018 Farm Bill section 7606***
Nice variety of strains
The Strawberry Gelato was one I would look for
Consistently excellent
I have been ordering from NAM for a couple of years now and I am always impressed with their level of customer service and quality products. The THC-O flower is yet another great product. It provides a good, relaxing high and a great nights sleep which is my primary purpose of using NAM products. I highly recommend all NAM products (the delta 9 gummies are THE best).
Great effects for the money
This sample pack from the 2 days ive smoked it, the product is strong you just have to give time for effects to kick in, kinda too stong i couldnt stay awake was too baked after about 6 hits but the better it is the more duration time for the effects, most products are cut with hella delta 8 but this thc o from my experience was the real deal now 3 times as potent as regular thc delta 9 is up the individual i personally like the product but each to thier own.
kinda week
got my sample pack today ,3 day delivery thata fast. decrete packaging, child proof containers all done very well. all the buds were moist and smoked easy but for the absence of noticable terps, a pleasant smoke.3 times more potent? was disappointed the high was very week, perhaps the infusion was not proportional to size of flower, had the delta 8 flower this was slightly better very sativa acting.