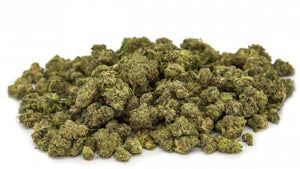 Our Delta 8 Small Bud Ounces have all of the same premium quality flower as our other products, but in in popcorn-sized buds! Densely packed with cannabinoids and terpenes, they deliver all of the effects that you're looking for, consisting of pure, raw hemp flower infused with delta 8 distillate and dusted in a light coating of kief, the super potent dust that comes naturally off of the plant's resinous, terpene-rich trichomes. 
Choose Your Preferred Strain
Our small buds come in a generous choice of strains so that you can make sure you get the specific effects that you're looking for when you smoke delta 8 flower. We proudly offer only top-shelf cultivars that are both renowned for their effects and their flavor.
Premium Quality
Our flower is grown organically, by domestic hemp farmers who know how to yield the very best flower in the United States. It's double-lab-tested and free of pesticides, and always sold fresh for maximum impact.
A Gratifying Delta 8 Buzz
Our flower is infused with pure delta 8, so that you can savor an uplifting yet relaxing psychoactive high with each and every smoking session.
stoney
IMO the popcorn sized nugs with d8 are better than the large buds, no stems and seem to have a better coating of the distillate. its a win win, price and effect.
small bud
Awesome! pack well for travel. Work great.
Shockingly good
Shockingly good and great for your value.