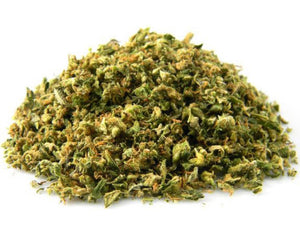 Our 1-ounce packs of delta 8 flower shake deliver all of the NAM quality standards of our premium Delta 8 THC Flower, while saving you money and time spent grinding it up. Shake is a phenomenally versatile product that results from the flower buds being "shaken" together over time, and is no different from flower buds that have been ground using a grinder.
Try Delta 8 Flower Shake
Our shake can be used in all kinds of ways to take your flower routine to the next level. Many people like to use it to roll joints or pack into their favorite pipe/flower vaporizer. But, you can also use it to infused baked goods with delta 8 and all of the other valuable compounds found in the hemp plant, or create infused oils to make your own tinctures, topicals and more.
Top-Shelf Quality
Our shake comes from organically grown, locally sourced hemp plant material that undergoes a strict third-party lab-testing process. It's infused with pure delta 8 distillate to enjoy a nice, bliss-inducing psychoactive high. You can choose your preferred strain and know you're getting nothing but premium hemp in every ounce.
**This product is 50 State Federally Legal Hemp. This product along with every product on THIS website is compliant with the 2018 Farm bill Section 7606**
I have arthritis in my hands and it's hard to clean buds anymore. Thanks for selling the shake! My hands also thank you!
Delta 8 Flower Shake (1 Ounce)
Have bought before, fast delivery
Well worth the cost. Will buy again.
Decent
Overall, I'd recommend it as a decent buzz. The shake is more ground than shake. Quite a few stems and occasional seeds.
I got the 1 ounce of shake and I love it...
My favorite is the Pineapple haze... A great deal, and good product!