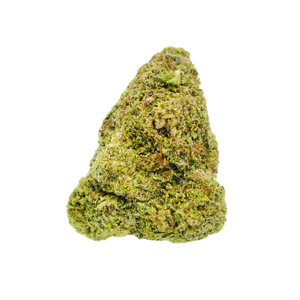 Strawberry Gelato is one of our top-shelf THC-O flower strains. This beloved cultivar is packed full of terpenes which ensure phenomenal, unforgettable flavor. Being a top-shelf strain, you can expect a very smooth and potent experience. It all starts with an indoor-grown flower that is naturally infused with our legendary THC-O extract, making this one of the best flowers one the market, and one of the most potent ones at that.
Strawberry Gelato
Strawberry Gelato is a 70% indica-dominant hybrid strain that gets its name from its fruity and creamy taste that has lots of satisfying sweetness. The strain can make you feel focused at first, before creating a hazy cerebral effect that's highly uplifting, along with a lazy body high while you enjoy fits of giggles.
THC-O
THC-O acetate is a cannabinoid that consists of hemp-derived THCA which has been modified to enhance its potency. It's known for being incredibly powerful, and it's also completely federally legal.
THC-O was specially designed to be highly psychoactive.  Delta 8 THC and delta 10 THC are known for being milder than delta 9 THC, but THC-O packs a punch, being 3 times as intoxicating.
***Every product on this website is federally compliant with the 2018 farm bill section 7606**

WOW!
Every product ordered from NAM has been fantastic, the quality has always been better than most! Strawberry Gelato is no different, amazing product. Nice & Sticky, smells great, taste great, not harsh to inhale like so many other brands, mellowing out type of bud, back pain subsided. Buy some, you won't regret it...
Satisfied Repeat Very Happy Customer;
Connie
SBG
THC-O Strawberry Gelato is (a) Good? (b) Better? (c) Excellent? (for me)---> the answer is (d) None of the above... SBG is SUPERIOR to anything else, non-cannabis, I've sampled... Highly Recommend 🌬
Strawberry Gelato
This strain is Amazing! NAM Wellness NAILED IT, in their description, with regard to 'effects' -- SBG (flower) causes (me) no throat irritation whatsoever! There are NONE FASTER than NAM Wellness, when it comes to delivery of your order!! Strawberry Gelato THC-0 could easily replace all the Delta 8 I've tried 🌬